EUDEC Member School:
Kapriole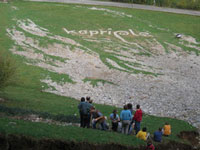 Address: Oberrieder Str.20, 79117 Freiburg, Germany
Tel.: +49 (0) 761 707.3674
Fax: +49 (0) 761 707.3674
Email: kontakt at kapriole-freiburg.de
Website: www.kapriole-freiburg.de
Name of contact person: Niklas Gidion ngidion@eudec.org
Year founded: 1987 (legally acknowledged in 1997)
Number of students: 150
Age range of students: 6-18
Number of staff: 22
Type of funding (government/private): government and private
The Kapriole is a democratic school that received state approval 15 years ago. At the moment 150 children between the ages of 6 and 18 come here to learn whatever, whereever, however, whenever and with whomever they want - all of the time. This absolute freedom and self-directed learning is the basis on which all other rules develop at the Kapriole. These rules are discussed and negotiated at the weekly school-meetings, in which each person has one vote - regardless of age and experience.
---