EUDEC Newsletter October 2015

Dear readers,
a stormy welcome to our autumn newsletter! Make yourself comfortable, grab a cup of hot tea, and be prepared for a glimpse of summer and many stories from the diverse field of democratic education. This volume includes a report from this year's EUDEC conference, an insight about the situation of education in Greece, the opening of a new school in Paris, the announcement of the movie "Doing nothing all day" - and many more!
We wish you a joyfull read!
Warm wishes,
EUDEC newsletter group
2015 EUDEC Conference and AGM
by Lena Kraus
This year's EUDEC Conference took place from the 1st to the 9th of August at the beautiful Zagroda Ojrzanów near Warsaw in Poland. The atmosphere was amazing, walking around the area and seeing people having fun, swimming in the lake, using the sauna or enjoying the amazing food, it made you feel like you're on a holiday. The perfect surroundings for all the DemEd activities that were going on! The drive to make something big happen was tangible! Projects were started in workgroups and Ideas discussed in workshops. There were inspirational speeches during the two open days, the "Inspire the Future" Festival.
Hereby, we want to send a big THANK YOU to everybody who was involved in organizing the conference, as well as all the volunteers!
Please feel free to also check out the photos uploaded on our facebook-page!
As every year, of course, there was the AGM. Apart from the general administrative details that need to be discussed in order to make EUDEC run smoothly (like checking and approving the budget), two decisions were made regarding the EUDEC Diploma. After a long, productive discussion, the introductory page was changed from bullet-points to a text, in order to describe Democratic Education a little more clearly to the readers. Also, the criteria under which a school can give out the diploma were changed in order to make them more inclusive. The majority of voters believed that the old criteria were too rigid, now, more trust is placed on our member schools to decide if they should give out the diploma or not.
Last but not least, after this year's elections, we want to say hello from the new council: Aaron, Michal, Lena, Pascal, Peter, Bine and Simon. We've already had our first Live-meeting in Warsaw, and discovered that we really like working together!
Regional Activities
by Ramin Farhangi and Aaron Keohane
During the conference and AGM, we heard several conversations and workshops in which people expressed the (positive) frustration that EUDEC has a gigantic untapped potential, and that it would clearly deserve to be a much much bigger organization. We invite each EUDEC member to engage in reaching out in their own areas and hosting alternative education themed events. We want to get our message heard, grow our organization and get democratic education better recognized. Up to now, the two ideas which were found to be the easiest to set up and with the largest potential impact are the two events mentioned below. The EUDEC Council can offer you support with these events by facilitating communication with other EUDEC members in your region. For support email phartkamp at eudec.org.
Organize a local conference. This is the most obvious initiative one could take to help our community grow. This is the key means through which our organization is what it is today. People attend the annual conference, they make exciting encounters with students, staff, start-ups… Next thing you know, they become a EUDEC member, they volunteer for a school, they enroll their kid… They sometimes even create a new school! The #1 thing which would help EUDEC grow today is to organize local EUDEC conferences. On October 17, an initial group of about 30 people met in Ecole Dynamique (Paris) to discuss democratic education and see how they can better promote EUDEC aims in France. It resulted in welcoming a few new members to the community and the beginning of a whole new chapter for democratic education in France.
Organize screenings of movies. There are several movies showcasing our common vision (Schools of Trust, Alphabet, Approaching the Elephant…). In this newsletter, we particularly recommend to organize a screening of Being and Becoming in your area. The audience is usually shaken and deeply moved by this film, and some actually decide to bring radical changes to their life as a consequence. It's important to organize a discussion after the movie so that people can share their feelings (usually goes on for hours!). The movie is self-produced, made, and distributed, and their team will happily help you organize a screening. For more info : http://www.etreetdevenir.com/organize-a-screening.html
Alternative Education in Greece
by Wolfgang Knorr, Zoë Valerie, Dimitris Lajios
Defending the obvious
Educational alternatives seem to be commonplace in much of the western world; democratic schools of various types, Waldorf/Steiner schools, Montessori Schools and other pedagogic models, homeschooling and unschooling opportunities are available to students and parents with scepticism towards compulsory schooling. In the land of Socrates and the founding fathers of the Athenian Academy you would expect ample interest in free-thinking, democratic education.
And yet, an astonishing fact emerges: Greece does not have a single school that fully represents any of the educational philosophies mentioned and, after the age of four, there is no legal option other than attending state approved schools. The Greek Ministry for Education and Religious Affairs has never licensed a school that follows a model of education that deviates from its own strict design. So far, there is no sign of this changing under the newly elected government. The term "democratic school" was spoken a lot in election campaigns. We haven't heard much of it since. A first educational reform law passed in mid May this year contained no reference to an intended expansion of educational choice.
In the public sector contemporary pedagogic approaches can be considered punishable offences. The principal of a public primary school where the traditional, 'compulsory' morning orthodox Christian prayer was replaced with poetry was suspended from her job. After more than a year she won the ensuing court case. In the private sector the state applies equally conservative restrictions. The Greek state allows only tiny exceptions to the ban of alternative education. Two private Montessorian schools, both in Athens, which take pupils up until the age of eleven, are allowed to offer Montessorian education for two hours a day. The rest of the day they follow the State Curriculum. Waldorf/Steiner education is restricted to private kindergartens and extra-curricular activities, which is not surprising given that Rudolf Steiner's teachings were proclaimed heretic by the church in the '90s. Any substantial representation of alternative philosophies in primary, secondary and tertiary education has the legal door slammed in its face.
The legal framework criminalizes deviation from the state prescription but illegal practices, such as religious indoctrination are allowed to flourish within schools and their administration. Compulsory education in Greece has not effectively protected the right to education in general or the right to an education according to your own principles. The interest in educational reform you would expect in this country is indeed ample, quiet until recently but ample.
There are many groups and individuals who have been intensely active in Greece for decades, more specifically since the fall of the military junta in 1974, instigating reform of the education system and, more recently, the decriminalization of alternative education. An example is the private primary school "To Ergastiri" (The Workshop) which operated in Athens from 1975 to 1981 and practiced a markedly free educational approach, with no pressure to conform to the demands of the establishment.
There are teachers in public schools who offer a 'rebel education' applying mostly democratic elements in their classrooms to whatever extent they can. An example is the School of Nature and Colours in Crete, a public primary school high up in the mountains which was staffed by visionary young teachers 4 years ago. Since then they have openly applied radical democratic education models creating an increasingly revolutionary school. Teachers have taken similar initiatives in other schools but this school does not keep quiet about it although many wish it would and some demand it in less than conventional ways.
The pressure against learning in free environments even when it operates diligently within the given framework is taking its toll. The future of this sociocratically run school is uncertain.
In Volos and Thessaloniki two autonomous educational initiatives have been operating for the past few years as informal centres for parent-led pre-school activities working tirelessly for their approach to be available to all beyond the age of four. All over Greece people of all ages meet, sometimes living together for a while, often with prominent specialists, coordinating, learning, developing ideas towards a new education. One such gathering is Hopecamp for ten days this June with a focus on democratic and experiential educational methods. This year many public discussions on the issue are taking place across the country as civilians begin to stand up for the rights of children, young people and parents.
In May 2015 the Hellenic Action for human rights "Pleiades" in collaboration with many other initiatives and individuals composed an all encompassing legal proposal for fundamental reform of the Education System including the separation of the ministry of Education from the ministry of Religious Affairs and the decriminalization of alternative education.
Parents prosecuted, even threatened with removal of custody without trial, for making autonomous educational decisions for their children are no longer alone or silent, they are getting support from legal specialists and volunteers.
In the land where Socrates was executed for his beliefs we, the citizens, parents, students and teachers want freedom of choice in education for all. We want the incredible workings of young minds to be trusted and encouraged.
Contact and information: info at ensoma.gr
Ecole Dynamique (Paris) is open since september 10!
by Ramin Farhangi
I used to teach Math and Physics in a conventional school, trying the best I could to revolutionize the practice under the influence of Sugata Mitra and Ken Robinson. I ended up letting my students learn on their own and simply be available as a resource. I was stuck, however, with the constraints of curricula, schedules, age groups, evaluations and all this nonsense. In August 2014, I read A.S. Neill and attended the EUDEC conference at Copenhagen. It became crystal clear to me that my life calling was to create a democratic school.
While I was on my way to create something inspired by Summerhill, I came across Peter Gray's "Free to Learn", Greenberg's "Free at Last" and the movie "Being and Becoming" by Clara Bellar. This completely hammered the last neurons in my brains which still believed in the importance of teaching. I fell in love with the coherence and logic that comes with the Sudbury model, and especially how the culture and organization ensure a peaceful and fair process to make decisions all together and sanction behavior which harms people's freedom. It was then FINALLY making sense to me what the founders of Athens, 1789 France and the USA had in mind (in theory) when writing their constitutions and the Declaration of Human Rights, and how obvious it is that it should apply to persons of any age.
So I quit my job in january, gathered a dedicated team in March to create such a school with absolutely zero concessions, gathered a few motivated families before the summer, found a building totally last minute, and voilà! You can watch our first baby steps in this 2 min video :
https://www.youtube.com/watch?v=VREe8WLXdwg
And the adventure is only starting. Every single day is filled with surprises, laughter, play, projects, serious discussions… I would like to extend one top recommendation to schools reading this piece : everything about the Sudbury organizational model is genius, but if I had to name the geniusest of all, it is the Juidicial Committee (JC). Our school started with a few basic rules and was rather chaotic at first, with teenagers sometimes engaging in seriously disruptive, disturbing and dangerous behavior. We had 45 cases of JC in only 4 weeks, and every single one was necessary. In only a couple weeks, the school became a safe space in which people of all ages can come without fear and be themselves. Students are speaking highly of the fairness of the process and supporting it very much. Justice matters to them just as much as it does to us. You should look into it if you don't have a JC which represents members to protect their right to a free life in a safe environment.
3rd Congress of Polish Education
by Michal Sienicki
On 29th and 30th August, the Polish Ministry of Education hosted a huge congress in Poland. Among 1100 participants were parents, students, teachers, school principals, and representatives of local governments and non-governmental organizations. The Programme of the congress was developed on the basis of the outcomes of social discussions held on a generally accessible website.
Many participants were from the polish democratic education community. We spoke a lot and I think that our voice was heard by many people. We were very excited to hear about the importance of play and freedom in education. A significant portion of the speakers at the conference presented a view that was very democratic, even when not directly called this. My conclusion from the congress is that there are many people in Poland who are willing to change education for the better. That's why I have a feeling that this is not the last good news from Poland you will get in the near future.
Doing nothing all day
by Margarete Hentze
The democratic film team of the documentary DOING NOTHING ALL DAY - FREISTUNDE is happy to announce that the film is ready.
The world premiere will be celebrated at the International Filmfestival in Leeds UK on 6th November at 9 pm. A further screening will be on 17th November at 4.30 pm. All people are very invited to the premiere and the following party in Leeds. For more information click here
.
We filmed at the IDECs and democratic schools in Israel, UK, and Germany and spoke to many people, to students, activists and scientists - i.a. Yaakov Hecht, Leonard Turton, Derry Hannam, Wolfgang Edelstein, and Gerald Hüther.
It is great to have this chance to show the result at an international film festival after five years of working on this project - but there are outstanding accounts for the postproduction.
So we are starting a crowd funding campaign at the moment and would like to ask you to make a donation via https://www.startnext.com/freistunde-film

Each Euro given is very much appreciated!
Best wishes,
Margarete Hentze
More infos about the project via freistunde-film.de
Messages from members and friends:
Schools of Trust
Dear EUDEC-Members,
finally is 'Schools of Trust' www.schoolsoftrust.com, our documentary about democratic schools, published on DVD!
You can order it here: http://www.tologo.de/schools-of-trust/

The DVDs for the supporters of our crowd funding campaign will be sent within the next days.
If you would like to show 'Schools of Trust' to public audiences (e.g. on events of startup groups or in your school), feel free to so. We don´t charge any fee for it and we would be happy about it. Maybe cinemas in your town would also be interested in showing it.
If you need an HD version of our film for your events, let us now and we will help you.
You can contact us via contact at schoolsoftrust.com
Best regards,
Christoph, Thomas und Leon
from the 'Schools of Trust' - Team
IDEC2015
This year's IDEC - International Democratic Education Conference - took place in New Zealand. It was a great event that attracted a lot of people from all over to world to meet and exchange ideas and experience from the field of democratic education.
The organisers wanted to make it as accessible as possible, making it possible for a lot of young people to attend as well. Unfortunately they ended up with a deficit after the conference. To help covering the costs a crowdfunding campaign
has been launched and we invite you all to help:
Here is the link to the crowdfunding campaign: https://www.indiegogo.com/projects/idec-2015-setting-education-free#/story]
2016 IDEC/EUDEC Conference
Registration for the 2016 IDEC/EUDEC Conference is now open. As the IDEC and EUDEC conferences are happening at the same time this year and the organising team have put in so much effort already we have no doubt that this will be a conference to remember. For more information you can visit the conference website
.
---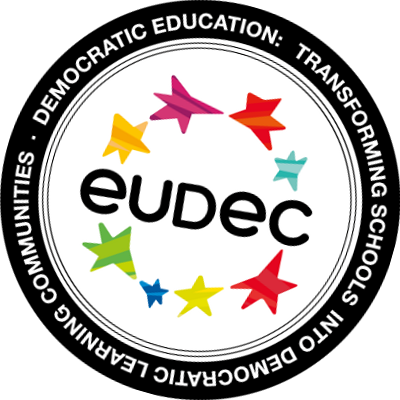 If you would like to contact the newsletter group write to: newsletter at eudec.org
---