EUDEC2012 Programme

Attention: For the programme of the public session of the conference click here.
Week schedule

Saturday 28.7.
Arrivals
Sunday 29.7.
Open Space
Monday 30.7.
Open Space
Tuesday 31.7.
Open Space, AGM
Wednesday 1.8.
Open Space, AGM
Thursday 2.8.
Open Space
Friday 3.8.
Public Session
Saturday 4.8.
Public Session
Sunday 5.8.
Wrap-up and good-bye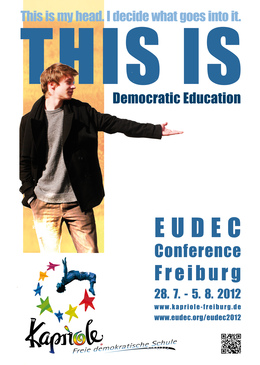 After Arrivals on Saturday, July 28th, the conference will start with five days (29.7.-2.8.) focussing on the exchange between people already - or intending to become - actively involved in democratic education. This part is not only for EUDEC members. Others are very invited to participate as well. It's just that, during those days, the focus will not be on explaining democratic education but on collaboration in EUDEC projects. Those days will be organised in the "open space
" method: all participants are invited to spontaneously initiate workshops, present their new ideas and/or questions etc. - the EUDEC conferences of the past years have shown how well this works, and we are looking forward to having five days available to work together like this.
Some workshops are also being planned/prepared in advance. Our goal is to collaboratively make substantial progress on concrete projects of the European Democratic Education Community.
A select few planned workshops during "open space":
School-startup-group support-kit - Collect in-depth support material for school-startup-groups.
First-aid-kit for democratic schools in legal trouble - How to react strongly, swiftly and effectively as a network of schools whenever one of EUDECs member schools is in legal trouble struggling for its right to exist.
Meaningful methods of evaluating democratic schools - Quality-control according to our own high criteria? Exchange of existing good practice, development of further ideas.
DERK - the Democratic Education Research Kickstarter.
upgrading the EUDEC Exchange-Programme
the EUDEC-Diploma - What it is, how to make it more well-known, coordinate translations, collect feedback.
Public relations workshop - flyers, website, talks, etc.
During these days we will also use a relaxed few hours for the "Annual General Meeting" (AGM) of the European Democratic Education Community.
Programme of the public session of the conference

On Friday/Saturday (3./4.8.) we will have two days of "Public Session", focussing on presenting democratic education to the interested public and explaining our good practice. Many interesting keynote speakers have already been invited. There will be times of "open space" at the public session as well.
For the detailed programme of the public session of the conference click here.


To register for the public session only:
To register for the public session on 3-4 August only click here.
Farewell
Sunday August 5th will be our day of farewell. After a good breakfast and a last plenary session in the morning we will say good-bye to each other. Every guest is asked to leave the venue at lunchtime (or stay only to help cleaning up).
Of course all these days will be loosened up with a few cultural gems, theater, music, party etc. - more details will be published here.
---