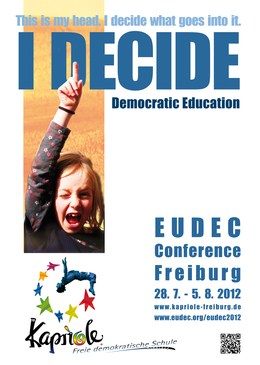 EUDEC2012 Accommodation
Unfortunately this is a tiny bit more complex. There isn't just one place you can choose to sleep at. For that reason, accommodation is not included in the general conference fee. We offer a few possibilities for low prices (as long as available, first come, first served) as well as information about nearby places of (commercial) accommodation, camp-sites, hostels, bed&breakfasts.
The available options are:
a) Sleep in a big dorm/gym
Unfortunately it is not allowed (in Baden-Württemberg) to sleep in the class rooms of any rented public school. Only the gym is available. If you don't mind sharing a sleeping place with many others of your conference friends, you can order a sleeping place there for only 25€ for the whole week (on top of the conference fee; as long as available; first come first served). You will be directly at the conference venue though. You must bring your own sleeping bag and insulation mattress.
b) Organized private homestay
Sleep at one of the Kapriole's families. We have about 110 families at the Kapriole and many of them have offered to have some conference attendees as guests in their home. One benefit: You will learn to know "insiders" of the Kapriole very closely and likely make new friends in Freiburg. The minor downside: You will have to travel a bit each day. But Freiburg is quite small and you will have your free ticket for public transport included with your conference pass so getting to/from the conference venues should be easy enough. We charge 25€ for the whole week for this option. (on top of conference fee; as long as available; first come first served) Sorry: the places in "organized private homestay" are fully booked.
c) Organizing accommodation on your own
We have reserved places at a select few places that are relatively close to the conference venue. You'll have to book (and pay) those on your own and separately. If you book there, please make sure you mention the catchword "Kapriole EUDEC Conference".
It will be main season at the time of the conference, so if you want to go for this option, book as early as possible!
Here is the list of the places we have arranged reservations at:
www.camping-freiburg.com - camping at the closeby "Möslepark"; places to pitch up your tent, rent a tent, rent a caravan, rent a mongolian jurt, rooms.
www.fremdenzimmer-freiburg.de - rooms, neighboured to the "Camping am Möslepark" (website in german only; single room 25€, double room 35€)
www.freiburg-camping.de - small campsite on the other side of the river "Dreisam", approx. 15 minutes walk from the conference venue; places to pitch up your tent, rent a caravan (might be a good option for a small group)
www.blackforest-hostel.de - single and double rooms and dorms; approx. 20 minutes walk from the conference venues, very close to the city centre
... we'll add more info here in the coming days.

To look for further possibilities of accommodation, use this dedicated tourism accommodation webpage
(accommodations searchable for example by city district: the conference venue is situated in the district called "Littenweiler").
---