PAPOULA - ESPACIO DE PEDAGOGÍA LIBRE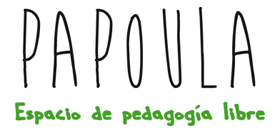 Situated in the village of Fuentelfresno,Soria, Spain.
Our "free school" has been running since 2011, and currently has 8 students and two paid 'companions'.
Nuestra 'escuela libre' ha estado abierta desde 2014, y actualmente tiene 8 estudiantes y 2 'acompañantes' pagadas.
Website: http://www.papoula.org/

Email: papoula.soria at gmail.com
Blog: www.elblogdepapoula.blogspot.com

Facebook: papoula espacio de pedagogía libre
(Se ve la versión en español debajo)
Papoula - a free educative space, offers...
... a space where children can go every weekday of the school year to build their own learning, being accompanied throughout the process with respect for who they are, taking into account their personal maturation time and their real needs.
The under 3 year-olds can also enjoy the space one day a week accompanied by their parents or guardians.
We as 'companions' ( as opposed to 'teachers') and adults in the project endeavour constantly to renew our habitual thinking patterns acquired throughout our lives. It's no less than a paradigm shift in understanding education. To do this, in addition to the process of personal development in this arena, we endeavour to undertake relevant training courses regularly.
We research and promote 'free' , or 'autodidactic' education both globally, by spreading the word and engaging in alternative education networks ; and of course locally; our educational space being a testimony to the social change that we wish to foster. A profound respect for the individual child and his or her environment, (whether human, natural and social) is at the core of that desired social change.
Basic principles
• self-teaching: Human beings by nature are curious and, by biological necessity and instinct learn from the environment in which they live. Our role as adults is to allow children access to information in a secure manner, providing them with an environment rich in resources and experiences.
• Trust: we base all our relationships on mutual trust through honesty and respect.
• Humanity: We 'breathe life'; we adapt to the rhythms of each individual person in a relaxed environment, without pressure or external conditions. We build a place where everyone can make their decisions without demands or judgements.
• Equality: We are all part of this project on equal terms, not understood as homogeneity, but as diversity. We use such decision-making tools as Assembly and Circle Time, encouraging open and honest communication
• Freedom: When the young person is able freely to make choices and decisions he/ she then also becomes responsible for the consequences those choices may bring. This leads to the development of awareness of one's own responsibility as part of a group, of the responsibility to care for the materials in use, and of the responsibility for one's own learning path.
__
Papoula - el Espacio de Pedagogía Libre ofrece...__
... un espacio donde l@s niñ@s puedan acudir durante las mañanas del curso escolar para construir sus propios aprendizajes, siendo acompañad@s durante todo el proceso desde el respeto a su persona, teniendo en cuenta su momento madurativo y sus necesidades auténticas.
L@s menores de 3 años también podrán disfrutar del espacio un día a la semana acompañad@s por sus figuras de apego.
L@s acompañantes y adult@s del proyecto estamos en constante reajuste de nuestros esquemas adquiridos a lo largo de nuestra vida, a este cambio de paradigma a la hora de entender la educación. Para ello, además del trabajo personal, estamos en continua formación.
Investigamos y promovemos la pedagogía libre tanto a nivel global, mediante la difusión de la misma; como a nivel local, con la creación de un espacio pedagógico, buscando con ello propiciar un cambio social que promueva el respeto al individuo y a su entorno, ya sea humano, natural y social.
Principios Básicas
• Autodidactismo: El ser humano por su propia naturaleza es curioso y, por necesidad biológica e instinto aprende del entorno en el que se encuentra. Nuestro papel como personas adultas debe ser permitirle el acceso a la información de una manera segura, dotándoles de un ambiente rico en recursos y experiencias.
• Confianza: basamos todas nuestras relaciones en la confianza mutua a través de la sinceridad y el respeto.
• Humanidad: Respiramos la vida, nos adaptamos a los ritmos individuales de cada persona, en un entorno relajado, sin presiones ni condicionamientos externos. Construimos un lugar donde cada cual pueda tomar sus decisiones, sin exigencias ni juicios.
• Igualdad: Todos/as somos parte de este proyecto desde la igualdad, no entendida como homogeneidad, sino como diversidad. Por eso hacemos uso de como instrumento de toma de decisiones mediante la comunicación sincera.
• Libertad: Cuando la persona es capaz de elegir y tomar decisiones también se hace responsable de las consecuencias que pueda traer, por lo que pretendemos que vayan adquiriendo una responsabilidad como parte de un grupo que se desenvuelve en un ambiente concreto y con un material que hay que cuidar, y una responsabilidad con su propio proceso de aprendizaje.
---