EUDEC Member School:
Mackdonald Language Academy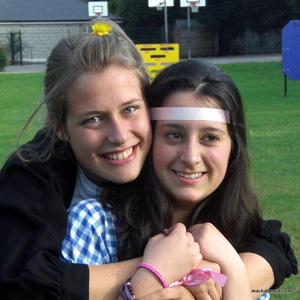 English summer camps for kids, teenagers and young adults in Ireland
Address (school premises):
Gaelscoil Osraí
Loughboy
IRE-Kilkenny
Ireland
Registered address:
Guisanstrasse 93
CH-9010 St.Gallen
Switzerland
Tel: +353 / (0) 87 93 95 106
Email: office at mackdonald.com
Website: www.mackdonald.com
& www.ispeak.ch
Name of contact: Isha McDonald / Alexander Mack
Year founded: 2007
Number of students: approx. 100 per summer
Age range of student: 9-18
Number of staff: 9
Course duration: 2-, 3-, 4- and 6-week courses during June, July and August
Type of funding: private
School Info Chart - Mackdonald Language Academy
Mackdonald Language Academy is a democratic English language school in Kilkenny, in the southeast of Ireland. The school welcomes students aged 9-18 years from all over the world. For the duration of their stay in Ireland, students live with Irish host families in Kilkenny.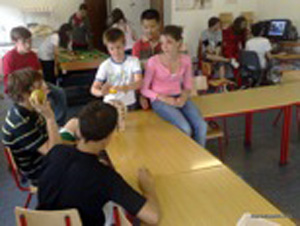 Holistic approach
The learning experience of our students takes place inside and outside the classroom. To a wide degree, it is self-initiated. Students are free to choose their lessons and afternoon / evening activities. English tuition is based on interests, aims and life experience of the learners. Students can choose from a wide range of after-school activities. Skills towards more creativity, improving communicative skills, problem-solving and the ability to make deliberate choices are actively promoted.
Inside the classroom
Various learning styles and techniques are acknowledged and supported. Each member of the educational community is both a learner and a teacher. It is the members of staff ́s main responsibility to actively support and participate in the students' activities when the need arises. Age mixing among students and members of staff is variable. Decisions concerning the students ́learning experience are made in a democratic process in which every member of the school community has one vote.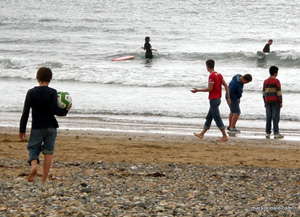 Outside the classroom
Students are encouraged to indulge themselves in various arts and practical skills, diverse physical exercise and computer skills. The range of freedom for each person is directly proportional to his or her level of responsibility. All interests - academic and non-academic - are equal in importance. Everyone - the students, host parents and members of staff continuously strive to satisfy the interests of everyone involved in this learning experience.
Internationality & Cultural diversity
It is very important to us that our students learn to cherish nature, treat others with respect and share with equality. In a versatile social and culturally diverse environment such as during one of our English summer camps, students learn various skills including expressing oneself, leadership, negotiation skills and listening. At mackdonald language academy one learns to live in society as an active citizen.
It is our philosophy that education and language training in particular, should help young people to develop the skills needed to lead an open-minded and responsible life of fulfillment. We, at Mackdonald Language Academy have the expertise to support the well-being of the international students, their host families as well as our members of staff.
---