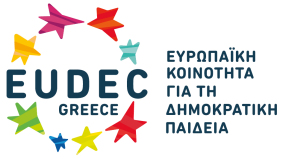 EUDEC Greece

Hello!
EUDEC Greece is a regional chapter of EUDEC (European Democratic Education Community) a non-profit organisation that works across Europe.
We invite you to join forces!

Who we are
We are the founders and the first council of EUDEC Greece. We are also the organisers of EUDEC18 (European Democratic Education Conference) in Greece.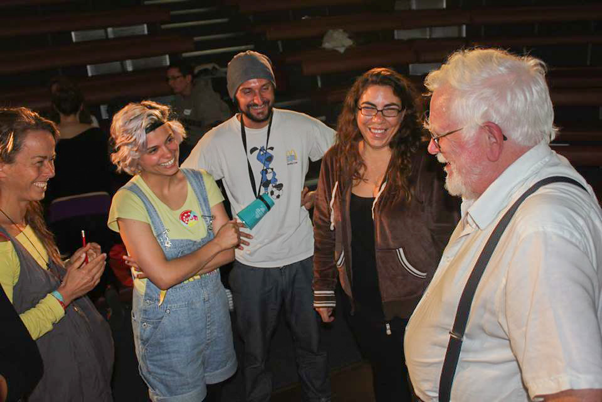 From left to right: Zoë, Violeta, Stelios, Christiana and Evangelos (behind the camera as usual) with Derry Hannam at EUDEC17 in Paris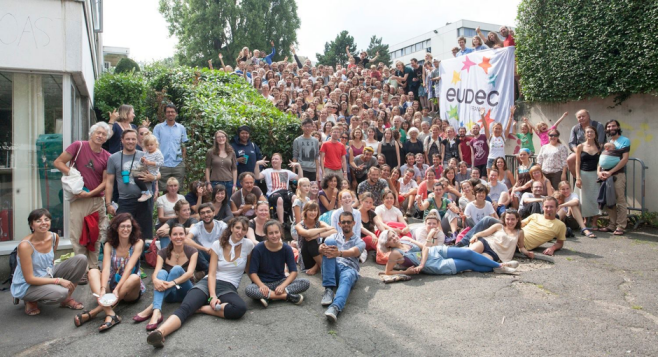 The extended family…
Our purpose is to promote Democratic Education throughout Greece.
Democratic Education is based on two main principles:
Students have the right to make their own choices regarding learning and other areas of everyday life. In particular, they may individually determine what to do, when, where, how and with whom, so long as their decisions do not infringe on the liberty of others to do the same.
Students have an equal share in the decision making as to how their organisations - in particular their schools - are run, and which rules and sanctions, if any, are necessary.

The heart of Democratic Education is in:
trust in the evolving human and her/his ability to form communities and to co-decide through collective processes.
genuine equality between people of all ages, beyond any hierarchy.
encouragement of the individual expression of every human, guided by the right to develop one's personality freely in all aspects that compose it as stated in Article 5 of the greek Constitution.

EUDEC Greece Aims:
To promote Democratic Education as a sensible and fitting educational model for Greece.
To Organize the European Democratic Education Community (EUDEC) Conference in the summer of 2018 in Greece
To found and support democratic educational structures for all ages across the country.
To function as a bridge of knowledge and information between Greece and the rest of Europe regarding Democratic Education.

Why have we chosen EUDEC as our partner?
Because it is inclusive of all educational structures that practice, evolve and promote democracy in education.
The European Democratic Education Community (EUDEC) seeks to promote and support democratic education across Europe. It is working to become the foremost advisory organisation and connective network for European schools and organisations practicing and seeking to develop and promote democracy in education. It will provide support to schools and start-up initiatives, education professionals, parents, pupils and students, and facilitate networking between them.
In EUDEC's lists of schools and start-up groups you will find Summerhill, Montessori Schools, Public Schools, Private Schools, world schooling groups, Sudbury Schools, Eco-communities and much more from all over the world, for all ages.
"The diverse participants in Democratic Education are united in upholding the spirit of the Declaration of Human Rights and the Convention on the Rights of the Child and implementing this as the primary framework for the day-to-day practices in all learning environments."
We consider EUDEC an appropriate partner and supporter in the project of expanding educational choice for all ages in Greece.
What are we doing?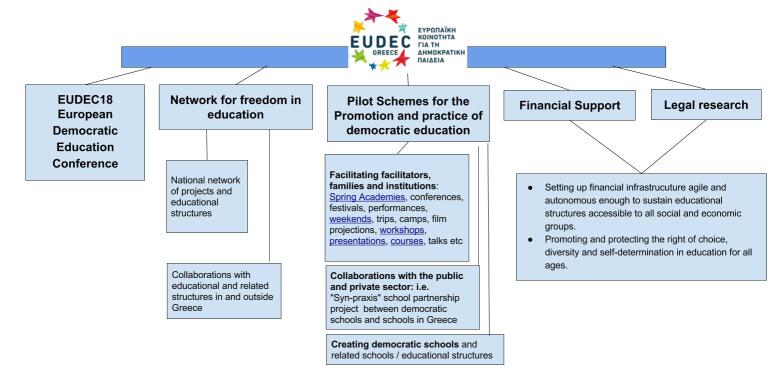 (click on the image)
Our action will be presented in detail on our site: www.eudec.gr
, which will be ready soon.
Some indicative examples are: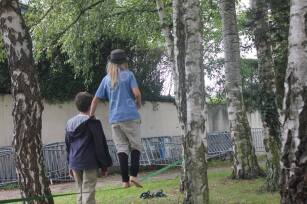 Let the exploration begin
There are many ways
you can participate.
If you are interested in participating in any way you can write to us at info at eudec.gr.
Inform us about your interest, your questions and your comments and let's enjoy the wave!
__
Join EUDEC Greece
Donate to EUDEC Greece
Join a work team

Sign up to receive Newsletters and updates
__
With open wings,
EUDEC Greece
Evangelos Vlahakis, Violeta Natsi, Zoë Valerie, Stelios Despotakis, Christianna Moshou
---