Democratic Education
There are two pillars of democratic education:
1) Self-determined learning
2) A learning community based on democratic principles
Self-determined learning
Students in democratic schools and universities choose how to spend their time in school, pursue their interests and prepare themselves for their lives and chosen careers. Learning can take place in classrooms, just like in conventional schools. But there are many ways to learn outside of classrooms, such as independent study, Internet research, playing games, volunteering, doing projects, visiting museums, travel and discussions with friends and teachers.
Texts on self-determined learning
A community of equality and mutual respect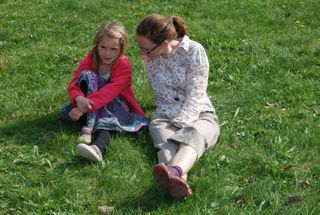 The best setting for learning – or working or living, for that matter – is one in which our rights and opinions are respected.
Democratic schools have school meetings in which all members of the community have an equal vote, regardless of age or status. Students and teachers can sit together as equals to discuss and vote on school rules, curricula, projects, the hiring of staff and even budgetary matters.
The result: tolerant, open-minded, responsible individuals who know how to express their opinions and listen to those of others; well-educated, active citizens for a modern democratic society.
Texts on community decision-making in schools
Why democratic education?
The question is rather, Why not?
We live in a democratic society, which in order to function well requires citizens who are creative, innovative and active in their communities and regions. Children do not learn these qualities through lessons and theory. However those who experience self-responsibility and democracy on a daily basis in their schools learn to speak their minds, fight for issues that are important to them, solve problems as a group, respect the opinions of others and contribute to the successful management of their communities. Those who are responsible for their own learning develop effective strategies for finding creative and innovative solutions to problems, and have the tools required of a true lifelong learner.
In terms of effective learning, scientists have known for years now that true learning (as opposed to memorisation of facts that are quickly forgotten) can only occur in settings that are free of fear and stress and when the information being learned is relevant and interesting to the individual. These conditions can best be met when students are empowered to direct their own learning with the support of adults able to provide positive and appropriate feedback and input.
But this reasoning, though valid, actually misses the most important point. Children and young people are not products to develop for economic or social purposes but complete individuals with the right to be "brought up in the spirit of the ideals proclaimed in the Charter of the United Nations, and in particular in the spirit of peace, dignity, tolerance, freedom, equality and solidarity" (Convention on the Rights of the Child, Adopted and opened for signature, ratification and accession by General Assembly resolution 44/25 of 20 November 1989). That includes the freedom to decide what, how, when and with whom they want to learn.
See also:
Democratic Education in Europe
Democratic Education Worldwide
Articles
Books
Videos
Graduate stories
Our Network
---